We understand that the loss of a loved one is a difficult time for everyone involved. We also know that planning a funeral can be a daunting task, especially in the midst of grief. At Peterson Funeral Home, we are proud to do our part in honoring our country's veterans. It is our duty to provide you and your family with professional and dignified assistance during your time of need, and we promise to support you in honoring your loved one for their dedication and selfless service. We have a long history of serving the needs of military families, and we will work closely with you to ensure that all of your wishes are met. We hope that we can ease some of the burden during this difficult time, and we thank you for entrusting us with the care of your loved one.
Eligibility
The passing of a loved one is always a difficult time, and the added stress of planning a funeral can be overwhelming. Fortunately, the federal government provides certain benefits to veterans and their families. One of these benefits is the mandate for military funeral honors. The Department of Defense is required by law to provide funeral honors at no cost to eligible veterans. Eligibility will be verified by the veteran's DD-214, or discharge papers.
Eligible members include:
Active duty service members who die while on active duty
Reserve and National Guard members who die while performing their duties
Former service members who were honorably discharged
Service members who die while serving on active duty for training
Commissioned officers of the Public Health Service and National Oceanic and Atmospheric Administration who die while performing their duties
Military funeral honors are a fitting tribute to those who have served our country, and they are provided at no cost to the family. For more information, please contact your local Veterans Affairs office.
Traditional Honors
Eligible veterans are entitled to receiving military funeral honors at their time of death. Funeral honors include the folding and presenting of the United States flag to the veteran's next of kin as well as the playing of taps by a bugler or a recording. These honors are performed by an honor guard detail that consists of at least two members of the Armed Forces. One member must be a representative from the branch in which the veteran served, and this member will be the individual who presents the flag to the family. The other member(s) of the detail can be from any branch of service. Arrangements for military funeral honors can be made through funeral homes or mortuaries, and there is no charge for these services. requesting party should contact their local Veterans Affairs office, Department of Defense, or state veterans cemetery for assistance in obtaining military funeral honors. Military funeral honors are a final demonstration of the nation's gratitude to those who have faithfully defended our country. It is also an opportunity to honor the memory of a fallen hero and to offer comfort to their loved ones.
Veteran Benefits
We are here to help you coordinate honors related to the service of your loved one. This includes communication with the U.S. Department of Veterans Affairs (VA) to arrange for:
An honor guard
Taps
The playing of "Ruffles and Flourishes"
A gun salute
The flag folding ceremony
An flyover In addition.., we can assist you with other honors that may be appropriate, such as: A memorial service at the gravesite
A military service at the funeral
The placement of flags on the gravesite
The ordering of flowers for the funeral
Reimbursement of burial expenses: For information on eligibility and the different levels of potential reimbursement, please review their Guide to VA Burial Allowances.
e understand that this is a difficult time for you and your family. Our goal is to help you honor your loved one in a way that is meaningful to you. Please do not hesitate to contact us if you have any questions or need assistance.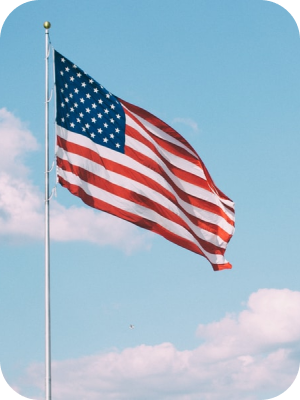 Additional Resources
Please visit the following links for detailed information about the options available for honoring service members and other aspects of military funerals: